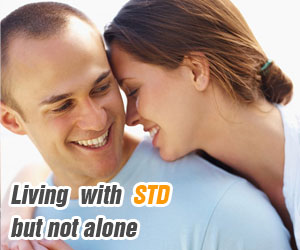 PositiveSingles.com - the best, most trusted and largest anonymous STD dating site!
Positive Singles Login Benefits
Positive Singles
Positive Singles is world's largest, and most trusted online home for people with Herpes, HPV, HIV / AIDS and other STDs. Here you'll find hundreds of thousands of local matches and friends for dating, marriage, friendship and support. Launched in 2001, Positive Singles has been helping people with STDs find love and support over a decade and it has been estimated that 60,000 success stories were from our members in the past few years.
Positive Singles is the authority STD dating site in its field. Over 1 Million quality singles from the USA, Canada, UK, Australia and all over the world. The official statistics shows:
Positive Singles Login

PositiveSingles.com - the best, most trusted and largest anonymous STD dating site!
120,000+ conversations per day;
15,000+ daily active members;
500 + daily blog posts;
900 + STD Care Locations;
500 + STD Treatment Stories;
1,300+ STD Inspirational Stories;
Members Statistics
HSV-1 (herpes type 1, usually cold sore): 108,257
HSV-1 (herpes type 1, usually genital): 77,941
HSV-2 (herpes type 2, usually genital): 358,435
Herpes (not sure which type): 92,718
HPV (human papillomavirus): 102,619
HIV (human immunodeficiency virus): 168,597
Hepatitis B: 9,907
Hepatitis C: 12,951
Chlamydia: 9,557
Thrush: 5,502
Syphilis: 5,066
Gonorrhea: 4,699
Other (not on list): 72,522
Unknown: 12,395
The Gender Ratio Statistics
Gender Ratio
Woman: 29.10%
Man: 70.66%
Couple: 0.24%
The Age Ratio Statistics
18 – 25: 24.51%
25 – 35: 29.26%
35 – 45: 29.66%
45 – 55: 3.91%
55 – 65: 2.07%
65 – 99: 10.59%
Positive Singles is the private, exclusive community for people living with STDs. Only those living with Herpes, HIV / AIDS, HPV and any other STDs are welcome. All personal information remains private and confidential. We've blocked search engines and non-logged in members from seeing member's photo or profile. All features on the site are owned and developed by Positive Singles independently. We'll never install any third party apps or services or sell your profile to any third party entity like many other sites do. If you find a user that is not living with an STD, please contact us so that we can remove his profile.
Positive Singles is part of a network of affiliated sites serving persons who are STD positive. We do not conduct background checks on the members of this website. Your safety, anonymity, and the preservation of any information you deem to be confidential is of the utmost importance to us. We've spent, and continue to spend, a substantial amount of time ensuring Positive Singles is the best safe and private std dating site for people with Herpes, HIV / AIDS, HPV or other STDs.
Positive Singles: The Risks and Benefits
Positive Singles Login When you are tested positive for herpes the safest thing you can do is to visit herpes dating site. Many people out there going through this kind of disease are mostly judged by the society and often hated for having one. Signing up for positive singles sites is just perfect for you. Find love, support, family, and encouragement free of any judgment and prejudice.
Positive Singles Date Site Positive Singles Login
Some of the risks and benefits date site for positive singles dating site are:
1.The Confession. This is the most reasonable benefit of a positive singles dating site, it will help you not to fear of sharing or revealing that you have herpes. There are so may people out there that test positive for herpes, but they never tell it to their new partner because of the fear of being rejected. If both of you are positive then there is no reason for hiding it. You have to know the risk of herpes before engaging some sexual escapades.
2. Disgrace: Signing up with herpes dating sites gives one a community that will help you strengthen your confidence. You will not be affected by the stigma of being filthy, disgusting and immoral. You will be melded to become sexually mature and think that you are not alone with this dilemma. You will get used to dating someone with herpes on a herpes date site. POZ PERSONALS
3. Being honest with herpes – If you will not disclose to your partner that you have herpes can be very stressful. It takes courage to tell it until it's too late. The trust will be an issue here because of the fact that you are not saying it to him or her beforehand. There will be a tendency that things in your relationship will not go on smoothly because of betrayal. So you must talk to your partner that you have herpes before it would be too late. How will your companion feel if ever you contacted him or her with herpes and you never confess it to him or her? This is one of the advantages when you log on to positive singles herpes dating site because you are free of rejection. Positive Singles Login
Positive Singles Benefits Positive Singles Login
4. Comfortable even in a bad relationship: Do not ever stay in a singles with herpes bad relationship for the sake of having one even if it doesn't work anymore. This happens frequently on herpes dating site. Whether or not you have herpes, one should not stay in a bad relationship because of your condition and you fear you will be rejected once more. You tend to stick around because of worry that no one will accept you. You come to herpes dating site community to lessen these fears of rejection. A HIV date site relationship is some sort of your shelter where both of you find comfort and love. If you are not happy anymore then it is time to move on.
5. Prohibits transferring of herpes to your prospective partner If you have herpes then you can longer transmit that infection to him or her because you both has it already. All you can do is practice all the necessary precautions during outbreaks. With positive singles dating site, you are the educated about the risk and benefits with herpes. Based on experiences of the other people in that community. The fear of transmitting the disease is one of the benefits of the HIV positive singles dating community. Positive Singles Login
Positive Singles
6. You are limited only to a number of potential partners. It is true you are only limited to those people who has the same conditions as you are. You only have the option to date somebody within the community. If you take the risk outside of herpes dating then it is still your choice. But be mindful of the consequences. Have an open mind; however signing up on a dating site is just a first step for finding the right one. Do not be discouraged to get out of herpes community; there are still plenty of dating sites for singles out there waiting for you regardless of who you are.
Positive singles dating site is the place where you meet friendship, social, dating and support group community. It caters to people with herpes. Sign up now for a positive singles dating site to start your quest in finding everlasting love. Positive Singles Login
The Leap of Faith into Christian Singles Dating
For devout Christians, entering the dating scene can often be a confusing and sometimes unsettling experience. Let's face it, there are lots of things for the average dater to be concerned about when trying to find a suitable partner, but when it comes to Christian singles dating, matters can become even more complicated.
Despite being interested in establishing a long-term relationship with another like minded person, some Christians are afraid to barely even dip their toes into the dating pool. For some, the fear that "it can be a jungle out there" is a concern that paralyzes them, but that too common fear is more than likely largely unfounded.
While advances in technology such as online matchmaking services have made the dating experience more convenient and efficient for many people, when it comes to Christian singles dating, tradition cannot be overlooked as a factor in a single person's attitudes toward meeting other like minded singles.
It can be difficult to put aside religious convictions when venturing out into the dating world, but in fact it isn't at all necessary. For most devout Christians, finding a person of similar religious beliefs is important because so much of their makeup is based on the way they were raised or taught. Positive Singles Login
A strong religious foundation more than likely comes with a strong family presence and influence, so Christian singles dating other singles will likely find themselves having to satisfy their own attraction as well as satisfying their family's expectations of who they choose in a mate. Of course, if dating another Christian single, those expectations are likely shared, or at the very least well understood. Poz Personals
Religious upbringing can be looked upon as both a positive and a negative when it comes to dating.
From the positive side, a person with a strong religious foundation is likely to be grounded and firm in how they approach the world and issues they face along the way. Their faith provides a strong base from which they've grown their values and morals. Christian singles dating programs certainly exist online as well as offline, and many single Christians choose to explore their dating options through the help of technology.
However, many Christians still rely on the old traditional ways to meet other singles. That means their local church and church groups may be their primary way of meeting other Christian singles.
Conversely, those who are uncompromising in their Christian beliefs can, at times, be considered uncompromising or inflexible. That means that they may be considered too picky by some who don't understand just how important their religious beliefs are in establishing the person who they've become.
In a nutshell, Christian singles dating options may be narrower than the general dating population, but that doesn't mean the quality of dating prospect is any less. In fact, Christian singles dating within their own set of beliefs may find that their relationships have a richness that others don't have the pleasure of experiencing.
The Connection Between Fitness and Singles
What's the connection between dating and singles? It seems like gyms are often popular places to meet people, and fitness singles sites are cropping up to satisfy the needs and wants of online daters looking for partners to workout with and romance at the same time. Is there a significant connection between the fitness industry and single life?
One possible explanation for the connections made between fellow gym-goers is the desire to find like minded people who enjoy active lifestyles and staying in shape. Certainly, a part of this is a greater appreciation in general for people who are physically fit. While this is a broad generalization, it may be safe to assume that most people who want to keep themselves in shape also want that from their partner. For this reason, gyms attract like minded people, with similar lifestyles. Also, as has been proven by several psychological studies, similarity and proximity increase the likelihood of attraction. Therefore, if two people run into each other on a regular basis, and see each other participating in activities they both enjoy, the chances of meeting and making a connection are more likely.
Another psychological explanation may come from biological and neurological studies. Chemicals released into the brain during exercise are often associated with feelings of euphoria. These feelings are commonly seen as responsible for a 'runners high' that many consistent exercisers experience. As these feelings of euphoria are experienced, people are conditioned to associate those positive feelings with other stimulus that surround them. Like Pavlov's Classically conditioned dogs, a person who see something (like another attractive person) while experiencing a positive emotion (a runners high) begin associating these two things together. Eventually, people begin attributing their positive feelings to that person (he/she makes me feel good). As a result, many singles who are heavily into the fitness lifestyle, and regularly visit the gym, may begin to pair their positive feelings with other fit singles they see at their gym.
While these explanations may only be a part of the reason why singles and fitness are frequently paired together, ultimately, there is some sort of connection between the two. Whether these stem from psychological reasons or the desire to seek out other physically attractive or fit people, fitness and singles are frequently paired, and with good reason. Positive Singles Login
3 important steps for STD dating
1. Before you invite someone into your life you need to make sure you are someone you would want to date yourself. Heal yourself emotionally, get counseling, take time to process your diagnosis and accept it.
2. Prepare and protect yourself and your partner. Find a treatment regimen that works for you and gives you peace of mind.
3. Talk about it. Maybe you were given a choice and maybe you weren't but do what is right for your partner so he/she can make up his/her own mind as to whether he/she is willing to take the risk.
2. 8 Rules for Dating With GHSV
Rule 1. Gauge The Relationship
It's okay to date and not have sex. It's best to get to know the other person and see if you have an intimate mental connection before you have an intimate physical one. It's going to be hard trying to cut through the initial attraction to look for that deeper connection. If it's there, then proceed on.
Rule 2. Tell Your Partner before Sex
This is quite possibly the hardest part of dating with an STD. It can be a terrifying situation which can play out one of many ways. Likely your mind will go through each scenario over and over again. However, the worst possibly situation that could occur is them leaving your life. In this case they were not worth your time anyway.
Internet Sites like Positive Singles or support groups can be great places to meet with other people who already know what you're going through. Going into a date knowing that your partner has that in common with you can take a lot of the stress away. This can cut out Rule 2 all together.
Rule 3. Your Disease Does Not Define Your Relationship
This is a very hard thing to get past for newly infected individuals. Sometimes your disease will get in the way of certain intimate moments in your relationship. Don't break down every time this happens. Calmly tell your partner the situation and explain to them that it just can't happen right now. If your partner is smart and cares for you they will understand. Crying, moping, or getting angry only adds fuel to the fire and will often distance your partner from you.
Rule 4. Practice Safe Sex
If your partner is not infected or if you just want to be safe. Use a condom and don't have sex during an outbreak. This builds trust between you and your partner. It is also just the smart thing to do.
Rule 5. Don't be Needy
Yes you have an incurable disease that will be with you for the rest of your life. If your with a partner who knows that, then there is no reason to use it as a crutch. Put simply, use them being there as your support when you're feeling down. Them being with you is their way of showing they care.
Rule 6. Get your partner tested regularly
If you are dating a non-infected individual, it is a good idea to have them tested regularly to make sure you didn't pass your gift along. Usually once or twice a year is enough.
Rule 7. Be Optimistic
Nobody likes a Debby Downer. Smile as much as you can and rejoice that you are alive. It is natural to be scared, or angry at your condition. However, these temperaments only serve to your ill. Often a positive attitude will attract other people to you.
Rule 8. Be You
Don't pretend to be something that your not. You are beautiful, and you're alive. Don't lie to your potential partners about who you are. You will just make yourself miserable.
3. Always keep up medicine for your STD when dating with someone
Make sure you trust the person 110%, make sure you know what you're getting yourself into, don't give out your full name or address and make sure you see each other on webcam and talk on a microphone before any further actions take place. If you do meet up with someone online, make sure you take a friend or meet at a public place, preferably not your house.
Always be protected with condoms and make sure if you have any medicine for an STD or infection, always keep up to date on those and take them. Make sure you're truthful with the person you want to date.
4. Anyone who's living with an STD should live their life happily
Have been reading some blogs and i think anyone who's livng with an STD should just live their life happily and not chase after relationships itonly causes problems and doubts on urself. Someone will fall in love with you just by being urself and when they do keep persistant that you aren't really ready never lead anyone on. And if they keep pushing the day will come when its the right time to tell and when u do they WILL accept as they love you for who you are not who your trying to be. Trust me!! Every other type of relationship you try and build will most probably end in fail as it is too quickly gained with deception, that would be the last thing they'de expect to hear right? We all must think what would i do if someone told me that i didn't even though that well? If u were in love with someone it wouldn't matter! Lust is totally different.
5. Basing a relationship completely around a shared STD
While browsing a few internet forms, I keep coming across men and women that are in a relationship simply because them and their partner share the same STD. Now, while that is a wonderful thing, that, exclusively, is not a reason to maintain a relationship. Exhibit a: "Johnny" and "Ashley" have been dating for 3 months.
Ashley is beginning to get tired of the same conversation. She understands that they both have the same STD, and that it would be easy to sit back and suck it up and try to make things work. However, all she can think about is how little they have in common. She is bored when she is with Johnny. She tried to talk to him about it, but is scared to break up with him, for fear that others will see her as "damaged goods". Whats a girl to do?
Personally, I stayed in a relationship similar to the one outlined above far longer than I should have. We bonded over our shared STD, and about how hard dating had become. Our first date was all about sharing our "infection" story. As was our second. And our third. Until one day it finally dawned on me that this was ALL we talked about. We had nothing else in common. While it was nice to not have to worry about being judged, I was staying in the relationship for all of the wrong reasons.
Some time has passed since then, and it now all seems so absurd to me. Now, I am looking for a person I like and am compatible with who happens to have my same STD (or a person who is not infected that can look past it). Then, I was looking for a person with my same STD and that was about it.
I guess what I am saying is to not let your disease define you or your relationship. It works out better that way in the end.
6. Being smart when dealing with stds
Even though it may be exciting and new to date that someone from a website that deals with the same issues you have to deal with it is important to make sure you always practice safe sex with this new individual no matter if you both know about one another's std situation, it is always good advice to get tested together so you both know together what the situation on both sides, I know you both may have discussed what each person has but in this day and time it is not enough to just talk about it, so for both parties sakes get tested, it is only the smart thing to do.
7. Be upfront about your STD
When trying to meet new people you may be very upfront because of having herpes.
It's no fun when you have a great connection but they don't know of your status. Letting people know early on gives you a better idea of their character and if they will be worth the time and effort.
It is a great thing to do. When you come across the right people, they really appreciate it and it doesn't stop them from being interested in you for YOU either!
8. Cold-sore disasters?
Okay, so your super pumped about a date..then you feel it..stupid cold sore starting to pop up!
It seems to never fail, just like a zit, something to hinder your excitement and subside you from your possible fun. walwah, here are some quick solutions that help to get rid of it in a more timely fashion:
*ice–put it on every 5 min for an hour
*toothpaste (miracle)–put on when you feel a cold sore start to develop.
I normally do it at night before bed and in the morning, its gone…if thats not a miracle, I dont know what is!
9. Communication is a huge necessity for STD relationship
All relationships are difficult but dating with any STD can even be more challenging. But their are basic practices that can go a long way in building a relationship. I believe communication is a huge necessity and this comes down to even the first date with someone. This is why I believe going to the movies, or somewhere overly noisy is not a good idea. A first date should be somewhere neutral and quite where the two people can talk and get to know each other. If you are already in a relationship time should be set aside in our busy schedules to communicate. When communication is good everything else will fall into place easier.
10. Dating After the Initial Shock of Your STD
When I was first diagnosed, I was actually seeing someone at the time, still new not quite dating each other but very close. I found out, told him, and ended up unfortunately passing it on to him. My biggest fear about my STD was passing it to someone else. However, some people who date others without their shared STD are fine with it. I at first thought I could be one of those people, but i cant.
There is too much left for blame, and there is a certain understanding that comes with dating a person who shares the same STD, a comfort if you will. Back to my dating experience, after we found out he got it we decided to try and be together. Things were great at first, he's an amazing guy, quite older than me which I found out was a big part of the problem on my end. We wanted different things and I needed to be on my own to deal with my feelings about getting herpes instead of rushing into the first guys arms who will still love me for me. You have to love yourself before you can allo with someone else to, this is the key to finding that person you can truly be happy with. I myself am still searching for that one special person but positive singles has given me so much more hope than I ever thought would be possible.
I finally feel like I could find love again, and that this STD isn't who I am..its just something i have to deal with and i want to be with someone who will understand what that is and how it feels so we can deal with it together. I hope this inspires someone out there and keeps your head up. You are never alone, and you will find that special someone I promise. Cheers ;).
11. Don't let your STD cripple you mentally
Your mind is a powerful thing. And when traumatic or extremely confusing issues arise such as contracting an STD, there are a million thoughts running through your head as you try to figure out when, how, why? You can overwhelm yourself so much that your brain just shuts you down and you can put yourself into a deep depression at that point. It is then that you realize that you are no longer the same person and it is at that point the STD is in control of your life and not you. This is where building a positive attitude will breed a positive state of mind. And that positive state of mind is what will tell you everything is under your control the fact that you have an STD will not limit what you want to do.
The best tools to start with are to educate yourself about your STD, understand how it affects your body, is there a precautionary solution will help suppress the symptoms like a medication that might help alleviate noticeable symptoms so that they are not always fresh on your mind. All these will help you develop a peace of mind because you are actively taking control which in turn will help develop a positive attitude. Don't let your STD keep you from having the same state of mind you have always had right up till contracting the STD. Manage your STD mentally by being proactive in understanding it and learning to control it. And then get out there and enjoy the new experiences life has to offer that you would have otherwise missed out on if you had decide to let your STD mentally shut you down. Positive Singles Login

PositiveSingles.com - the best, most trusted and largest anonymous STD dating site!